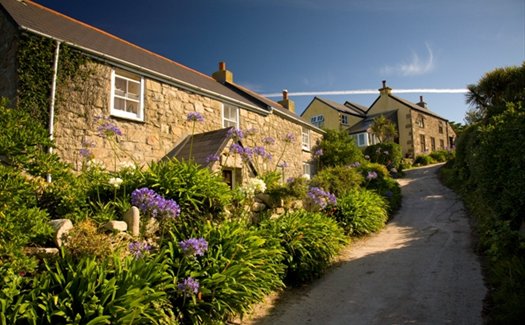 Bryher
Cottages near Great Porth
Bryher
Pounded by Atlantic waves on one side, yet blessed with calm sandy beaches on the other, Bryher is a rugged yet deeply beautiful island – the perfect place to enjoy a taste of untamed Scilly.
It is the smallest of the inhabited islands (around 80 people are lucky enough to call it home) and is cross-crossed by tracks and dotted with stalls selling fresh produce. Explore its rocky coves, laze on its sandy beaches or hike up one of its small granite hills for some of the best views on the islands.
Its fame has spread far and wide: the luxurious Hell Bay hotel has won many an award, while Jamie Oliver voted the diminutive Fraggle Rock Bar "Best British Boozer".
HIGHLIGHTS
Search for cowries in the fine, white sand of Rushy Bay
Swim or snorkel at Great Porth
Storm-watch at Hell Bay
Picnic on Samson Hill
Admire the granite stacks of Shipman Head
Kayak or sail in the still waters of Green Bay
Indulge in melt-in-the-mouth locally made fudge
Buy freshly landed seafood, locally grown veg and flowers
Watch the seals on a sightseeing cruise
Snorkel and dive in the clear waters of Tresco Channel
Spot unusual flora and fauna
Visit the studio of painter Richard Pearce
View the sunset from Popplestones
WHERE TO STAY
- Hell Bay hotel
- Campsite
- Self-catering cottages
- Guest houses
Click to view all accommodation on Bryher.
GETTING AROUND
There are regular boat services from Bryher to the other islands - contact www.bryherboats.co.uk.