Things to Do
From dawn till dusk there are awe-inspiring sites, adrenaline pumping activities and unique attractions.
Whether you are visiting for the first time or the fortieth time Scilly invites you to peel back the layers of these fascinating islands.
For those looking to kick-back and relax we have delightful beachfront cafés, scenic coastal walks, a vibrant arts and crafts scene and one of the greatest gardens of Europe – Tresco Abbey Garden.
If you feel like picking up the pace, and being active then you can dive, sail, kayak, windsurf, paddle board, horse ride, explore on mountain bikes and take part in organised sea-swims, to name a few activities. And of course there are the ubiquitous boat trips to enjoy enabling you to soak up the islands' atmosphere, explore uninhabited islands, and spot some puffins, sea birds, dolphins and seals.
There is also a varied and vibrant events programme throughout the season, kick starting with Walk Scilly week from 12th - 18th April 2014 and the Folk Scilly Festival 17th - 20th April 2014. Then we have the world famous World Pilot Gig Championships held every year during the first Bank Holiday in May. There are island fetes, RNLI days, plus music, sports and food festivals throughout the summer. Numerous Scillonian bands also entertain at the pubs and clubs year round. In short, there is something for everyone if you like to be entertained. And if you don't? Well it's just as easy to slip away from it all.
Highlights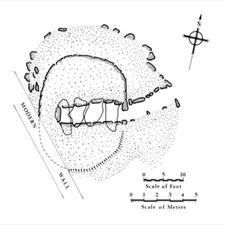 The remains of an ancient Iron Age village in a wonderfully scenic location. On the hill above stands a Bronze Age burial mound with entrance passage...