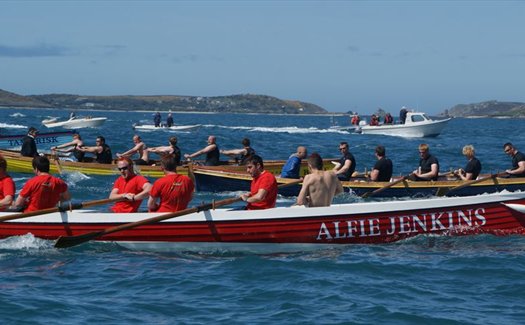 Family Attractions
A family holiday on Scilly will lay down memories that children will treasure for the rest of their lives. Living on an island is exciting in itself; add the adventure of boat trips to other islands, tales of Arthurian myth and legend, and endless days on idyllic beaches, and they'll love every minute of their time on Scilly.
Beaches
There are more than 35 sandy beaches spread across the islands. Whether you are after a refreshing swim, serious sand-castle building, rockpooling, shell-seeking or the perfect picnic spot, the beaches around Scilly will delight.
Snorkel with seals
Get up close and personal with seals on a snorkelling trip. It's a real thrill to watch these elegant and graceful creatures in their natural habitat. Suitable from age eight. Check out www.scillydiving.com.
Get wet and wild
If you are looking for a real buzz on the water, try a host of watersports, from sailing and kayaking to windsurfing and kite-surfing. Centres on two islands cater for all ages and abilities, and equipment can be hired from both. More details at www.sailingscilly.com and www.tresco.co.uk.
Hire a boat
Hire a small motor craft, sailing boat or kayak and explore the magical coves and tranquil beaches at your own pace. More at www.tresco.co.uk, www.bryherboatyard.com, and www.sailingscilly.com.
Take a sea safari
Regular boat trips and RIB safaris visit the uninhabited islands to watch marine life and tour famous landmarks. You can even see underwater life through a glass-bottomed boat. More details from www.scillyboating.co.uk, www.stagnesboating.co.uk and www.bryherboats.co.uk.
Enjoy a horse-drawn adventure
Experience St Mary's at a different pace, in a Scilly Carriage drawn by a shire horse. It's a magical way to see the island.
Hire a bike
From easy lanes to more testing trails, bikes are a brilliant way to explore both St Mary's and Tresco. Details at www.stmarysbikehire.co.uk and www.tresco.co.uk.
Gig rowing
Watch these six-oared wooden boats race in the waters off Scilly. Races take place on Wednesday and Friday evenings throughout the summer months and spectator boats follow the action. Details at www.scillyboating.co.uk, www.stagnesboating.co.uk and www.bryherboats.co.uk .
Ride a horse
Enjoy the beauty of St Mary's on horseback, riding along sandy beaches and through the shallows on the way. More details at www.horsesonscilly.co.uk
Travel through time
Delve into Scilly's past on boat trips and guided walks that give you the low-down on the fascinating history and archaeology of the islands. Details at www.scillywalks.co.uk. And don't forget the fabulous Isles of Scilly Museum on St Mary's, where tales of shipwreck and piracy will grip the imagination.
Indoor Attractions
When it's wet (yes, it does sometimes rain on Scilly!) and you need to get out, don't worry! There are galleries galore, potteries, craft workshops, an indoor pool, community halls full of equipment and a soft-play centre for the younger ones! See www.phoenixcrafts.co.uk, www.facebook.com/kingsotcastle, www.activescilly.co.uk and www.glandoregallery.co.uk.