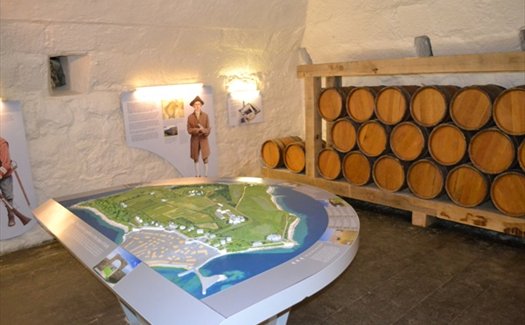 A rich heritage on land and sea
The Powder Room- Garrison.
History
From shipwrecks to treasure, and from burial chambers to deserted villages, the history of Scilly is utterly compelling – especially as it mingles so tantalisingly with modern-day life on the islands.
Scilly's tiny land mass is home to 239 scheduled monuments, which means there is a greater density of historical sites here than anywhere else in the British Isles.
Traces of human life on Scilly stretch back at least 3,000 years, when the islands were one large land-mass that was home to nomadic hunter-gatherers; their flint tools still sometimes turn up today, on beaches and in fields.
Fascinating finds from subsequent years plot the rich history of these tiny islands, and many can be seen at the wonderful Isles of Scilly Museum on St Mary's. Alternatively, take a guided walk to uncover the hidden history of Scilly – more information can be found at www.scillywalks.co.uk.
HISTORICAL HIGHLIGHTS
Bant's Carn, St Mary's - an entrance grave dating from the Bronze Age
Halangy Down ancient village, St Mary's – an iron-age settlement
St Helen's, Tean and St Martin's – remains of early Christian chapels
Standing stones at Long Rock, St Mary's, the Old Man of Gugh and the menhir on Chapel Down, St Martin's
Submerged prehistoric huts and field boundaries off Samson, Tresco, Bryher and Tean
Tudor and Civil War castles on St Mary's (Star Castle) and Tresco (Cromwell's Castle)
Scilly's natural history means it looks and feels quite different to the rest of Britain, and the entire coastline of our archipelago is described as a 'Heritage Coast'.
Everywhere you turn in Scilly, the past and present come together. Both maritime history and archaeology impact on traditions and folklore and have all left their mark on today's landscape.
A 'living community' which welcomes all, rich in traditional values, islanders have great respect for their cultural heritage. Gig racing, a sport born from pilotage, is a popular pastime and all Scillonian families have a strong link to the sea.
Islanders are proud, resourceful and independent-minded - a testimony to their ancestors who adapted to the changing circumstances of history.
Today the traditional industries of flower farming and fishing continue along side tourism.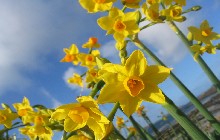 Flower farmers maintain a patchwork of fields, bright yellow with colour from October onwards. Some have diversified into harvesting herbs for essential oils as well as keeping small herds of free range beef and dairy cows. You may also spot a few sheep and pigs across the islands!
Fishermen haul their catch and land the finest shellfish, lobster, crawfish and crab. Other fish such as John Dory, megrim, and mackerel are also landed here delighting our island chefs who make the most of these delicious catches. You can buy fresh fish right on the quay on St Mary's, at Tanglewood Kitchen @ The Post Office (www.tanglewoodkitchen.co.uk), and outside many fishermen's cottages.
.
Number of items:
Number of items: 36
, currently showing 1 to 10.
Set on a hill above the site of the ancient Iron Age village, lies this Bronze Age burial mound, with entrance passage and inner chamber.

The remains of a small 16thC gun tower, overlooking the white sandy bay at Old Grimsby.

Glandore Gallery is a beachside studio/shop featuring work by Stephen Morris and Nan Heath, offering exciting original artwork, print and cards.

Enjoy a conducted or self conducted tour around St. Martin's vineyard, and sample our white, red and rose wines - or simply visit the shop/visitor centre.

an open invitation to view its superb collection of paintings by the likes of Barbara Hepworth and Ivon Hitchens.

The very first lighthouse erected by Trinity House, in 1860. The tower's three-stage construction is still evident, though the lantern has beens changed. Light was originally supplied by a coal fire and the last iron is now in Tresco Abbey Gardens. In 1790 that was replace by an oil lamp. The...

This leaning menhir, 2.4 metres high, is a prominent feature on the skyline. George Bonsor dug around its base in 1900 but found nothing

Previously called King Edward's Tower this well know landmark has been maintained since 1912 as a memorial to the King's visit, but was originally a windmill built in 1834 to replace the earlier Peninnis Mill. It stands on a kerbed platform which probably incorporates the remains of a Bronze Age...

An unfinished fort in the care of English Heritage. Though named Harry's Walls, it was begun in 1551, during the reign of Edward VI. An early plan shows it was intended to be square with acutely angled bastions at each corner - an Italian design reflecting the increasing use of cannon. Internal...

This circular granite building was erected on the highest point of the Islands as a gun and semaphore tower soon after 1805. Later adapted as a signal station it was here, in 1898 that Gugliemo Marconi heard wireless signals transmitted from Porthcurno. Them four storeyed building, 12.0 metres...