Getting Around
The Isles of Scilly have more than 60 miles of trails and tracks and approximately 9 miles of paved 'road'.
There are numerous transport options, so set your itinerary and explore Scilly at your own pace. You can take a bus, take a taxi tour, hire a buggy, ride a bike or simply walk the islands. There are also options to view St Mary's by horse and cart. Nothing is too far!
Look out for the infamous 'Blue Map', the Ordnance Survey OS Explorer map 101, or the Friendly Guide Map to help you get around. The Visitor Information Point on Porthcressa Bank will be able to help you and provide you with all the information you need. Pop in, or call them on 01720 424031.
As a rule signposting is more established on the off-islands than on St. Mary's, however all that means is a greater island adventure!
Highlights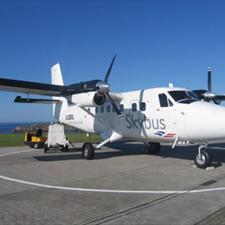 Plane Sailing with Isles of Scilly Travel. Escape for the day or stay a while. Take a short cut to Scilly with flights from Exeter, Newquay or...