Accreditation and Gradings
Accreditation offers you reassurance that the accommodation you book has been checked out before you check in.
We recognise both AA accreditations and Enjoy England's star rating. The star rating reflects the overall quality of the experience. If the accommodation does not have an AA accreditation or star rating, the property is part of the new Isles of Scilly Approved Accommodation Scheme. This means that the properties have been independently assessed to meet industry "safe, legal and clean" requirements. All properties must have acheived these minimum levels (or be AA or VisitEngland rated) to be listed on this website.
Enjoy England's ratings made easy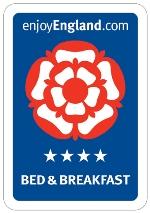 1 Star Simple practical, no frills
2 Star Well presented and well run
3 Star Good level of quality and comfort
4 Star Excellent standard throughout
5 Star Exceptional with a degree of luxury.
For more information on the Enjoy England Quality Rose assesment scheme and the star ratings click here.
Number of items:
Number of items: 231
, currently showing 1 to 10.
Guest Accommodation

Award

Giles and Julia offer a warm welcome to Tolman House; we are 10 minutes walk from the hustle and bustle of Hugh Town, and boast stunning panoramic sea views.

Price

Guide Price

from

£35.00

to

£46.00

Per person (breakfast included)

Bed & Breakfast

Delicious home-cooked food, stunning gardens, far-reaching sea views, comfortable bedrooms and friendly hosts; just a taste of what's to come when you stay at Polreath. Visit England Breakfast Award. Evening meals three nights a week.

Price

Guide Price

£52.50

Per person (breakfast included)

Situated in a quiet cul-de-sac within easy reach of the town centre and quay for any boating excursions to the off islands. We are open all year, so why not enjoy a quiet winter break when the islands are still very beautiful.

Price

Guide Price

£38.00

Per person (breakfast included)

Luxury apartment ideally situated a ten minute walk to St Mary's Harbour, Hugh Town and the picturesque Old Town bay. The ground floor property sleeps four in two bedrooms that can both be set up as a double (superking) or twin.

Price

Guide Price

from

£595.00

to

£995.00

Per unit per week

- Centrally located, spacious & well equipped ground floor flat.
- 2 bedrooms, sleeps 4 people
- Separate lounge, dining room & kitchen
- 2 minutes' walk to beaches, shops & harbour
- Linen towels & electricity all included


Price

Guide Price

from

£340.00

to

£840.00

Per unit per week

Holiday Park

Our peaceful site is situated on the historic Garrison, with views across Porthcressa to Peninnis Head.The site has various sized enclosures offering space, shelter and level pitches. Providing an enjoyable and relaxing base to explore.

Price

Guide Price

£10.00

Per person per night

St. Martins Campsite is set in a wonderful location, only a moment's walk away from Lower Town quay, fresh local produce stalls our famous pub, cafes and bistros. Just a few of the many attractions of island has to offer.

Price

Guide Price

£10.00

Per person per night

Wake up to the sound of the sea, spend the day relaxing by clear water & white sands of the campsite's beach, then watch the sunset from your tent. In a stunning location on the waters edge, the campsite enjoys panoramic views of the ocean.

Price

Guide Price

from

£8.75

Per person per night

to

£475.00

Per unit per week

Holiday Park

Set in a beautiful rugged landscape and close to unspoiled beaches. There are local produce stalls for fresh veg; lobsters and crab a well stocked shop/post office/bakery with WiFi, a hotel, bistro and cafe.

Price

Guide Price

£10.00

Per person per night

Fabulous location, fantastic sea view. Sunny flat with double bed and shower. Direct access through courtyard to the beach. Overlooking harbour and within ten minute walk of the quay, three beaches, shops, restaurants and pubs.

Price

Guide Price

from

£240.00

to

£490.00

Per unit per week