Uninhabited paradise
Eastern Isles
Uninhabited
Of the many islands and rocky islets that make up the Isles of Scilly, only five are inhabited – St Mary's, St Martin's, St Agnes, Tresco and Bryher. The rest are a haven for wildlife and seabirds, some visited by day boats, others never visited by man at all.
It is thought that the entire Scilly archipelago may once have been joined together, making up a large land-mass that some believe was the lost Arthurian land of Lyonesse. Nowadays the islands are still steeped in legend and myth, and many have fascinating names to reflect this: Great Arthur, Hangman's Island, Old Man, Hunter's Lump, Seal Rocks and Great Cheese Rock.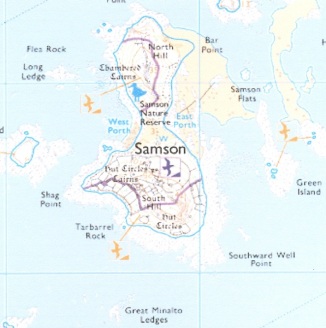 Some of the uninhabited islands once supported small communities, though, as both Tean and St Helen's, for example, have remains of early Christian chapels. And Samson was home to several farmers and fishermen until the mid-1800s; haunting remains of granite houses, barns and boatsheds remind us of these times.
Many of Scilly's uninhabited islands pay tribute to the tragic shipwrecks that have taken place in the surrounding waters over the centuries. The Western Rocks are a permanent memorial to the countless seamen lost on Bishop Rock – a 50-metre rock column that is totally covered at spring high tides – on which the UK's most southwesterly lighthouse now stands.
Today you can take a boat trip and witness many of these rugged and wild outcrops from the water, marvelling at the abundant bird life, colonies of seals and stunning seascapes along the way. For more details, contact St Mary's Boatmen's Association at www.scillyboating.co.uk; St Agnes Boating at www.stagnesboating.co.uk; or Bryher Boat Services at www.bryherboats.co.uk.