Gig Racing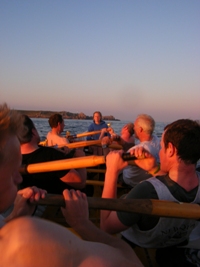 Gig Racing is about blood sweat and tears. It was in the old days and it still is today.
It comes from a time when boats were built of wood and men were made of iron.
A Scillonian pastime, these wooden boats survive from the days of smuggling, life-saving and cargo carrying.
The Bonnet for example, one of the oldest racing Gigs, built in 1830 was named after a lady on St. Martin's who use to wave her bonnet at the crew wishing them safe passage on their voyage.
Today they race on Wednesday and Friday evenings between April and October to the delight of visitors and islanders.
A selection are on display at the Gig Sheds on Porthmellon beach, along with interpretation about the history and heritage of these boats. The fully rigged gig 'Klondyke' is the centrepiece of St. Mary's museum.
So take to the water, choose your crew and cheer them on.