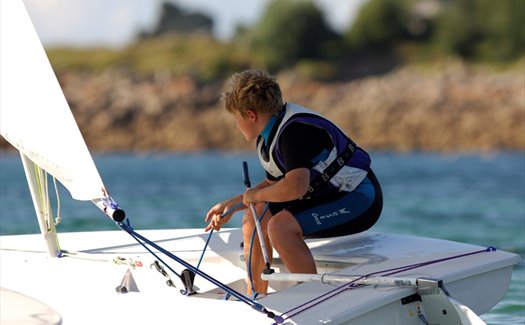 At Sea
ACTIVITIES ON THE WATER
Whether you are an open-water adrenaline-seeker or a beginner who wants to master a skill in a sheltered bay, Scilly is the perfect place to try your hand at all manner of water-based activities.
Diving
Scilly is blessed with clear water, abundant wildlife and more than 900 shipwrecks, both ancient and modern, making it one of the finest diving sites in the UK if not the world. For many, the chance to dive with seals and discover a wealth of sea life makes for an unforgettable experience. More at www.scillydiving.com.
Snorkelling
Get up close and personal with Scilly's seals on a snorkelling trip. It's a real thrill to watch these elegant and graceful creatures in their natural habitat. More at www.scillydiving.com.
Gig rowing
Islanders still carry on the traditions of the past by racing pilot gigs (six-person rowing boats) in the waters off Scilly. The ladies race on Wednesday evenings; the men on Friday evenings throughout the summer months. It makes a great spectator sport, as tripper boats follow the action. In May, every year, Scilly pulsates for an entire weekend during the World Pilot Gig Championships when more than 130 crews and their gigs descend on the islands. It's a spectacle not to be missed! More at www.worldgigs.co.uk.
Fishing
From on-shore fishing to organised boat trips, there is a wealth of fishing all year round, though the season from May to October is considered the best. Full details from http://www.scillyboating.co.uk/fishing.htm, www.scillyfishing.com and www.bryherboats.co.uk.
Watersports
If you are looking for a real buzz on the water, you can try your hand at a host of watersports, from sailing and kayaking to windsurfing and kite-surfing. Centres on two islands cater for all ages and abilities, and equipment can be hired from both. More details at www.sailingscilly.com and www.tresco.co.uk.
Boat hire
Hire a small motor boat, sailing boat or kayak and explore the magical coves and tranquil beaches at your own pace. More at www.sailingscilly.com.
Boat trips
Regular boat trips run throughout the season from April to November allow you to visit the uninhabited islands, watch birdlife, tour the Bishop Rock lighthouse and even see underwater life through a glass-bottomed boat or onboard a RIB safari. More details from www.scillyboating.co.uk, www.stagnesboating.co.uk, www.bryherboats.co.uk and www.crusaderboating.co.uk.