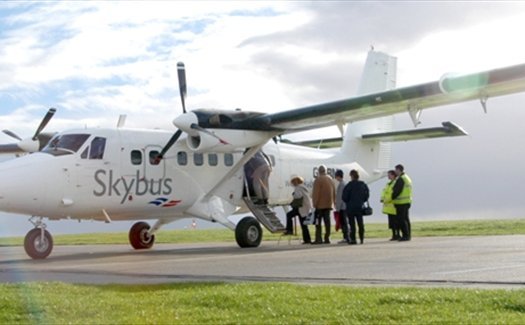 Skybus
Flying to the Isles of Scilly is a special experience.
Where else in Britain is check-in a pleasurable experience? Where else do you get to meet your pilot, travel in a small plane with a birds eye view of the Cornish coast.
We are an easy journey from the mainland but a world apart; only 15 minutes from Lands End, 30 minutes from Newquay and 60 minutes from Exeter. Our inviting climate, outstanding natural history, and timeless approach to life will entice you to come back again and again.
In April 2013 the Isles of Scilly Steamship Company opened their new terminal building at Land's End Airport. The new passenger terminal features a modern cafe area, an outdoor patio area, internet access and full disabled facilities and offers panoramic views of the airfield and out towards Longships Lighthouse and the Isles of Scilly.
Plan your visit on Skybus here.