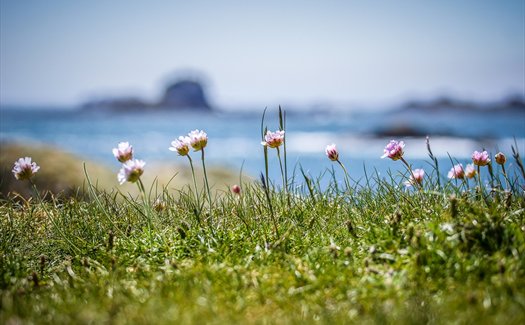 Day Visit- The great Escape
Imagine a day like no other, a day which delights with unforgettable, unique experiences.
That is what a day trip to the Isles of Scilly is.
There are so many things to do, here's a few ideas for a day to remember:
First fly with your own personal pilot. Enjoy a bird's eye view as the archipelago comes to life in front of you. Descend over turquoise shallows to St. Mary's where the adventure on land begins.
Get your bearings in Hugh Town, take in 'The Garrison' a short walk with marvellous panoramic island views. Visit boutique shops, explore the treasures of the Museum, walk along the Strand to the Lifeboat station, or stroll along Porthcressa Beach.
Choose a bus tour, golf buggy or bike to discover rural St. Mary's. Take to footpaths; find nature trails, deserted beaches, or breezy headland tracks.
Refuel with fresh seafood and home cooked treats in welcoming café's restaurants and pubs.
Loose yourself in the sub-tropical paradise of Tresco Abbey Garden – one of the great gardens of Europe.
Marvel at stories of seafaring and maritime history in the Colossus exhibition and Valhalla figureheads collection.
Muse over local art in studios and galleries, find your favourite view in oils, screen prints and pastels. Think of a wall, find your favourite picture make it part of you, take Scilly home.
Explore ruined castles on Tresco, the last battle fields of the English Civil War with uninterrupted island vistas.
Enjoy the company of seabirds, fresh salty sea air, clear waters and island impressions on a return inter-island boat trip.
The quayside is busy, passengers eagerly boarding Scillonian III ready for the 4.30pm departure. Pack up memories, post your post cards, pick up souvenirs and jump aboard for the cruise back to Cornwall. Recline in comfy chairs, enjoy a coffee in the café or explore the ships decks, the journey will fly by.
Spot porpoise, on the top deck, Wolf Rock Lighthouse, Tater Dhu and Minack Theatre nestling into the the Cornish Coastline. Follow the evening sun and trawlers full of fish to Newlyn after a long day at sea. Disembark in Penzance.
Think about the things you're still to explore and wish you could start it all again tomorrow.
Wake up and book another day trip! www.islesofscilly-travel.co.uk