Travel Information
Whether you fly to the Isles of Scilly by small plane or arrive by sea on the Scillonian III passenger ferry, you know immediately that you're somewhere very special.
Getting here is an adventure; part of your holiday experience:
Fly with Skybus the 'island's own airline' from Land's End, Newquay and Exeter airports on either an 8-seater Britten-Norman Islander aircraft or a 19-seater De Havilland Twin Otter. Whichever route you choose, you'll enjoy a spectacular bird's eye view of England's dramatic southwest coastline before the remote beauty of the islands unfolds below.
Or arrive by sea on the Scillonian III, a scheduled passenger ferry service which runs between Penzance and the Isles of Scilly (St Mary's) from March to November. The ship was refurbished for the 2013 season and offers comfortable reclining seats, a café bar, café, platform lift, baby changing facilities and open air deck seating. The voyage offers spectacular views of the coast from Penzance to Land's End, before you sail to the clear turquoise waters of Scilly.
Isles of Scilly Travel offers unforgettable travel by air from Exeter, Newquay and Land's End airports or by sea from Penzance. Call 0845 710 5555 or visit the Isles of Scilly Travel website for more information and online bookings.
For more travel information click here.
Highlights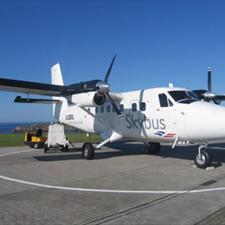 Plane Sailing with Isles of Scilly Travel. Escape for the day or stay a while. Take a short cut to Scilly with flights from Exeter, Newquay or...