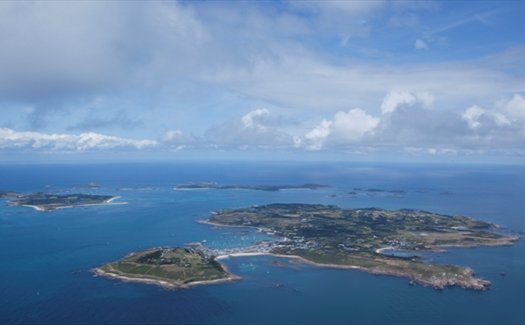 St. Mary's
Arriving by Air
St Mary's
With its air and sea links to the mainland, St Mary's is likely to be your first stop on Scilly. It is the biggest and most populated island and, with its shops, school and hospital, it is the hub of Scillonian life.
Yet outside the hustle and bustle of Hugh Town, with its cluster of shops, galleries, pubs and cafés, St Mary's still has its fair share of dreamy white-sand beaches, dramatic coves, tranquil waters, amazing archaeological sites and stunning seascapes. So, whether you are just passing through or making your base here, St Mary's offers a tantalising glimpse of island life and a great deal in terms of adventure.
HIGHLIGHTS
Walk more than 30 miles of coastal path and nature trails
Cycle the island's nine miles of road
Enjoy a horse ride to lesser known spots
Shop for locally made arts and crafts, and island memories
View the off-islands from the Garrison
Snorkel at Porthcressa Beach
Explore the rock-pools at Porthlow
Learn to sail at Porthmellon
Treat yourself to an ice-cream at Holgate's Green
Connect with your ancestors at Bant's Carn burial chamber and Halangy Down Bronze Age village
Watch a gig race
Observe rare birdlife
Let your children captain the Garrison's "Pirate Ship"
Enjoy a drink on the terrace of the Atlantic Inn
Dine outdoors at Juliet's Garden
Stroll along Porthcressa's new promenade
Watch the sun go down at Spero's
Take a sea safari and explore shipwrecks, seals and seabirds
Experience wonderful solitude at Pelistry Bay
Beachcomb at Bar
WHERE TO STAY
- Hotels
- Self-catering cottages
- Guest houses
- Campsites
Click to view all accommodation on St Mary's.
GETTING AROUND
There are regular boat services from St Mary's to the other islands. More information from the St Mary's Boatmen's Association – www.scillyboating.co.uk.