Arts and Crafts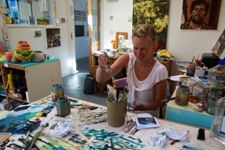 The quality of light and natural environment provide an ideal setting for photographers, painters, and craftspeople.
Artists paint in beach studios, landscape photographers capture changing moods, beachcombers make jewellery, and potters create distinctive mementoes. There are many, many galleries to view an extensive range of styles and media used. Many galleries also run a range of courses and workshops throughout the year, although maximum activity is during ArtScilly in May.
Craft workshops such as Phoenix Crafts on Porthmellon Business Park also run many courses, from stained glass and textiles to jewellery making.
Number of items:
Number of items: 7
With exhibitions of some of Cornwall's leading contemporary artists, as well as some who are less established, you will always find something to suit your taste.

Take a 10 minute stroll to Porthmellon and visit this thriving co-operative of artists and craftsmen. Locally inspired paintings, gifts and souvenirs.

Type

Family Activities (Sightseeing)

The Abbey Gardens are a sub tropical gardeners delight.

North Farm Gallery is located in Higher Town and is open all year with a stunning collection of paintings, jewellery, cards, postcards and books.

Beautiful, contemporary, handmade silver jewellery from St Martin's on the Isles of Scilly.

Glandore Gallery is a beachside studio/shop featuring work by Stephen Morris and Nan Heath, offering exciting original artwork, print and cards.

an open invitation to view its superb collection of paintings by the likes of Barbara Hepworth and Ivon Hitchens.