Flower Farming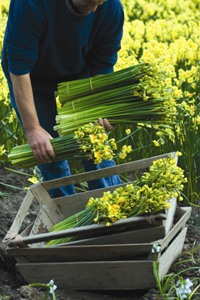 Everyone loves our flowers and the traditional industry of flower growing is blooming (pun intended!) on the Isles of Scilly across all the islands.
Aside from the traditional Solieil D'Or, the islands grow narcissi, dafodills, scented pinks, and a range of other beautiful flowers for sale and export to the mainland. There are also several mail-order companies who can brighten up your day delivering a burst of Scilly bloom right to your doorstep.
One of the most lovely sites on Scilly is the vivid yellow and white fields stiring into life from October onwards. Autumnal walkers watch flower pickers working hard to get these flowers ready for market.
There are also plenty of honesty boxes offering plants, flowers and bulbs for sale across every island.