Food & Drink
With an abundance of restaurants, pubs and cafes, all serving the best, fresh local produce, you are sure to find something to suit both your palate and your pocket here in Scilly. There are tea rooms, cafes, pubs and restaurants on every island so there is no shortage of options!
Whether you are looking for a light bite, a plate to share or a taste sensation, our restaurants, pubs and cafes will bring island flavours to life.
The monthly farmers market is also a great way to find the best quality local ingredients and meet the people with the passion behind ingredients. Foodies will also love the indulgence of the Annual Tresco and Bryher Food Festival every September.
Highlights:
Scillonian Crab and Lobster- landed that morning, lightly grilled and served with crusty bread and a wedge of lemon.
Troytown Farm Ice Cream - every drop of deliciousness is squeezed out of the tiny dairy hurd of just 7 to make mouthwatering ice-cream at the south-westerly tip of St. Agnes.
The Island Bakery - Delicious warm breads, pasties and baked treats waft through Higher Town St. Martin's- look out for the bread of the week.
Little Island Chocolate Co - Flavoured with natural oils such as Rose Geranium and Lavender this deliciously scented chocolate is a fabulous gift (if you can resist it yourself!).
Veronica Farm Fudge - It's not just the Cornish who make delicious clotted cream fudge, indulge with a slab of your favourite flavour of this Bryher made delight, coarsely broken with afternoon tea.
Wines from St Martin's Vineyard - Enjoy refreshing wines gently grown on the sheltered slopes of St. Martin's.
Local ale - brewed on Scilly and available in a number of pubs.
Plowman's Food Company - delicious local meat, plus a bakery and much more.
Becky's Scilly Cakes - available at many tea rooms.
Tanglewood Kitchen @ The Post Office - delicious home cooked food, freshly prepared to order and delivered to your door.
Round Island Crepes - sweet and savoury, watch as your crepes are prepared at this tricycle trading around the Porthcressa beach area, lunchtimes and evenings. Click here to request further information.
Fraggle Rock Bar -

this bar & restaurant on Bryher (often referred to as the pub, even by Jamie Oliver food mag!) is an ideal spot to enjoy a delicious range of food and drink in the sunshine, just moments from the beach.
Highlights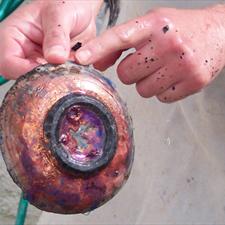 A chance to visit the islands for a week in the off peak season, when the local artist and crafts-people are able to take time out, explain their...