Getting Here
Fly with Skybus to the Isles of Scilly all year round:
Isles of Scilly Travel flies to the Isles of Scilly from Land's End and Newquay Airport all year round. You can also fly to and from Exeter between March and September.
A shuttle bus is available from Land's End to and from Penzance train station, and secure car-parking is available at all airports.
Flight times to the Isles of Scilly are 15 minutes to and from Land's End, 30 minutes to and from Newquay and 60 minutes to and from Exeter. Fares start from £70 one way.
Please note all departing passengers from Newquay Airport over the age of 16 are required to pay an Airport Development Fee.
Passenger Ferry:

Enjoy sailing past the Cornish coastline as you cruise to the Islands.
Isles of Scilly Travel operates the Scillonian III, a passenger ferry which sails from Penzance Harbour to the Isles of Scilly - into St Mary's Quay - from March to November. The boat operates six days a week in mid-season and seven days a week during July, August and early September.
Private Planes:
Enjoy the landscape of the Isles of Scilly from a unique perspective.
Isles of Scilly Airport on St Mary's welcomes private independent planes, and private flying clubs to the islands. .
Advance contact is essential prior to travel. For more information contact +44 1720 422677 or visit St. Mary's Airport pages.
Highlights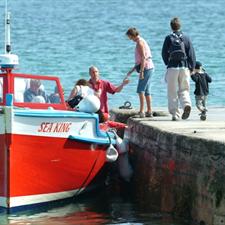 The Boatmen's Association offer an unrivalled service between the islands. They are an Association of 10 independently owned boats providing a...