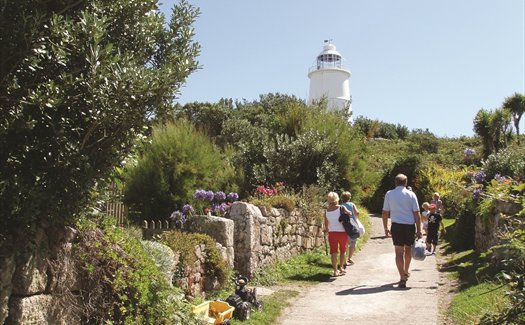 St Agnes
On the most south-westerly edge of the Isles of Scilly, St Agnes is totally unspoilt and astonishingly peaceful. It measures just a mile or so across, and its closest neighbour is Gugh, to which it is joined by a causeway at low tide.
This is an island of wonderful contrasts, from rocky outcrops on its exposed west side to paradise beaches in its more sheltered coves; the tranquillity of the sandbar between St Agnes and Gugh is particularly magical. Inland are quaint cottages and a patchwork of flower fields, while a lighthouse stands at the island's highest point.
HIGHLIGHTS
Search for shipwrecked treasure at Beady Pool on Wingletang Bay
Swim on the sand bar between St Agnes and Gugh - but watch out for the tides!
Spoil yourself with home-made ice-cream from Troy Town Farm
Puzzle at the stone maze
Study wild flowers, butterflies and rare migrating birds
Taste fresh local dishes at High Tide seafood restaurant
Drop by Coastguards café for a cream tea
Mess about in a dinghy at Porth Conger
Snorkel at Covean, a secret beach at the end of a tiny green path
Collect shells at Ginamoney Carn, a beach-comber's paradise
Explore prehistoric dwellings at Kittern Hill
Meet the Old Man of Gugh, an ancient standing stone
Picnic at beautiful Periglis beach
Enjoy a drink at the Turk's Head, Britain's most south-westerly pub
Take home lush, locally-scented hand-made chocolates
WHERE TO STAY
- Campsite
- Self-catering cottages and chalets
- Guest houses
Click to view all accommodation on St Agnes.
GETTING AROUND
There are regular boat services from St Agnes to the other islands - contact 01720 422704 www.stagnesboating.co.uk