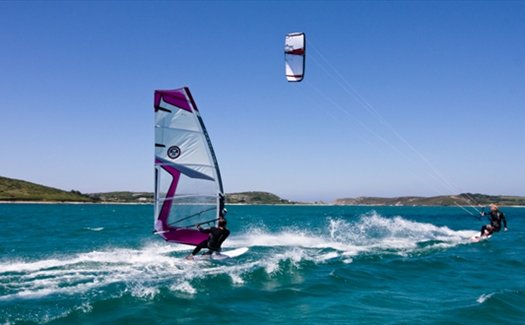 Feel Alive
Windsurfing and kite-surfing between the islands.
Active
The Isles of Scilly bring out everyone's spirit of adventure. If you're an active soul, you'll immediately want to explore and get to know the islands, seek out secret corners that you can call your own, explore the beaches and the underwater environment, and feel at one with nature.
There's something for everyone, from walking tours and fishing expeditions to water sports lessons and diving trips, not to mention horse-riding lessons, sea safaris, archaeological expeditions and golf.
For activities on land, click here
For activities on the water, click here
For indoor activities, click here
Number of items:
Number of items: 13
, currently showing 1 to 10.
With exhibitions of some of Cornwall's leading contemporary artists, as well as some who are less established, you will always find something to suit your taste.

Take a 10 minute stroll to Porthmellon and visit this thriving co-operative of artists and craftsmen. Locally inspired paintings, gifts and souvenirs.

Type

Family Activities (Sightseeing)

The Abbey Gardens are a sub tropical gardeners delight.

Whether it's a manicure, a full body massage or even a blissful bodyscrub - relax and spoil yourself at the Spa. Appointments essential.

Taster session or full RYA courses in dinghy sailing and windsurfing,large range of dinghies, dayboats, kayaks and wetsuits for hire. All ages and abilities catered for.

The Boatmen's association offer daily services to the off islands, along with sight-seeing tours for seals, sea birds and lighthouses plus evening trips throughout the summer. Take advantage of our 15% discount on purchases of 10 tickets.

St. Mary's bike hire. The perfect way to see this beautiful island is on two wheels.

St. Martin's Dive School offers snorkelling with seals and a wide range of diving opportunities. All experience levels catered for.

Type

Riding/Trekking Centre

Whether it is you first time on a horse, or you are an experienced rider, our friendly and helpful staff, and our quiet and well mannered horses will ensure you have a truly unique ride to remember.

Offers taster sessions or full RYA courses in Sailing, Windsurfing & Power boating for all abilities. Kayaks, dinghies and dayboats for hire.