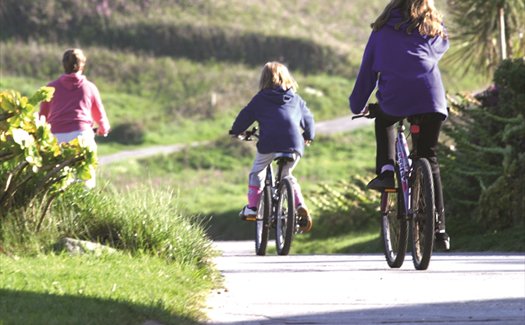 On Land
ACTIVITIES ON LAND
The varied landscape of Scilly offers a wealth of things to do, from exploring beaches at your own leisurely pace to joining an educational tour or immersing yourself in your favourite sport.
Beaches
Whether you are after a refreshing swim, some shell-seeking or the perfect picnic spot, the beaches around Scilly will delight you with their turquoise waters, white sand and clear rockpools. On the more rugged coastlines you can rock hop and explore coves and inlets (but always be aware of the changing tides).
Walking
People come to Scilly year-round to explore its wilderness on foot. Either go at your own pace or take a guided walk that gives insight into the island's wildlife, coastal habitats and archaeology. A highlight of the calendar is the spring walking festival, WalkScilly, which will take place in April 2014.
Birdwatching
Take a guided walk (or a boat) with one of Scilly's resident ornithologists or naturalists and see the many unusual birds that visit these islands.
Arts and crafts
The Scillies are home to many talented artists and makers who produce a range of work inspired by the islands, including stained glass, jewellery, paintings, textiles and ceramics. Don't miss Art Scilly, a week in May when local creatives share their work – more details at www.scillyonline.co.uk/artscilly.
Golf
If you fancy a round of golf in a superb setting, head for the nine-hole course at Isles of Scilly Golf Club on St Mary's. You can see the sea from every tee. Details at www.islesofscillygolfclub.co.uk.
Cycling
From easy lanes to more testing trails, bikes are a brilliant way to explore both St Mary's and Tresco. Details at www.stmarysbikehire.co.uk and www.tresco.co.uk.
Horse & Carriage
Experience St Mary's at a different, unhurried pace - and enjoy the scenery and views with Scilly Carriage, drawn by a shire horse.
Visit a vineyard
See how a flower farm on St Martin's has been transformed into a vineyard and winery – best of all, the tour finishes with a tasting! More at www.stmartinsvineyard.co.uk.
Archaeology
Delve into Scilly's past by taking a trip with resident expert, Katharine Sawyer. Guided walks (and boat trips) give you the low-down on the fascinating history and archaeology of the islands. Details at www.scillywalks.co.uk.
Horse riding
Enjoy the beauty of St Mary's on horseback, riding along sandy beaches and though the shallows on the way. More details at www.horsesonscilly.co.uk
Glorious gardens
A visit to the sub-tropical Tresco Abbey Garden is a must. With thousands of species flowering in succession, there's something to see all year round. Full details at www.tresco.co.uk.
Spa experience
If you really need to relax and unwind, The Flying Boat Spa on Tresco will restore you to a state of equilibrium with specially tailored treatments, plus sauna, steam room, jacuzzi and gym. Full details at www.tresco.co.uk.