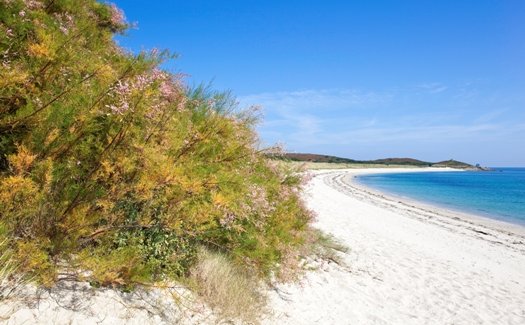 Beaches
The white sand bay of Par Beach, St. Martins.
St Martin's
Crystal clear waters, idyllic beaches and a prevailing sense of calm make St Martin's a delight. It is just two miles long, yet it has some of the finest beaches in the British Isles, if not the world. With its red and white Daymark, it is the first island you see as you cross from the mainland.
Lots of wonderful sandy beaches, along with the island's famous flower fields and vineyard, can be found on the sheltered south side of the island, while in the rockier north you can follow coastal paths along heathery cliff tops and look out over the stunningly beautiful seascape.
HIGHLIGHTS
Take a boat trip or go fishing
Dive or snorkel with seals
Cruise around the islets of Nornour, Ganilly and Menawethan
Swim in the sandy white crescent of Par Bay
Search the rock pools at Lawrence's Bay – a haven for families
Relax in the remote sweep of Great Bay
Indulge in a cream tea at Polreath Tea Room
Relax with a drink at the Sevenstones Inn (re-opening 2014)
Picnic on a pasty from The Island Bakery
Buy scented narcissi or pinks from Churchtown Farm
Tour St Martin's Vineyard
Admire the artwork at North Farm Gallery
Treat yourself to locally-made silver jewellery by Fay Page
WHERE TO STAY
- Self-catering cottages and chalets
- Guest houses
- Campsite
Click to view all accommodation on St Martin's.
GETTING AROUND
There are regular boat services from St Martin's to the other islands.