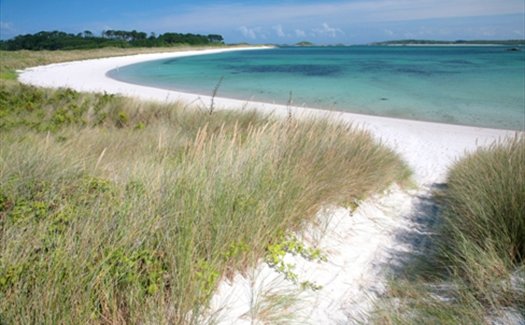 Beaches
Beautiful Pentle Bay Tresco
Tresco
This sub-tropical gem is the second-largest of the Islands, and the only one to be privately owned – today it is in the care of Lucy and Robert Dorrien-Smith.
Tresco has a little bit of everything, from dramatic rocky outcrops and romantic castles to secluded sandy beaches and, of course, the famous Abbey Gardens, which were established by Augustus Smith in the 1830s. This horticultural paradise now showcases 20,000 exotic species, many of which cannot be grown anywhere else in Britain.
Whether you explore Tresco by bike or foot, passing vivid agapanthus and verdant succulents at every turn, you're guaranteed to fall just a little bit in love with this rich and pristine environment.
HIGHLIGHTS
Hire a bike and cycle round the island
Explore the exotic species at Tresco Abbey Gardens
Drink real ales at the New Inn
Discover times past at the Bronze Age tomb on Tregarthen Hill
Watch migratory birds at Great Pool
Visit Valhalla, the shipwreck museum
Listen to the sea booming in Piper's Hole
Buy local produce from roadside stalls
Eat delicious Tresco beef
Sample pizza at the Ruin Beach Cafe
View fine art at Tresco Gallery
Sail, windsurf or kayak at Tresco Sailing Club
Take in views of St Helens and Tean from Rushy Porth
Laze on the sugar-fine sand of Appletree Bay
Collect shells and take a dip at Pentle Bay
Watch wildlife at Great Pool
Shop for culinary delights at Tresco Stores
Relax and be pampered at the leisure spa
WHERE TO STAY
- Sea Garden Cottages
- Flying Boat Club
- The New Inn
- Self-catering cottages
Click to view all accommodation on Tresco.
GETTING AROUND
There are regular boat services from Tresco to the other islands - contact Bryher Boats at www.bryherboats.co.uk.