Tresco Abbey Garden
Tresco
Isles of Scilly
TR24 0QQ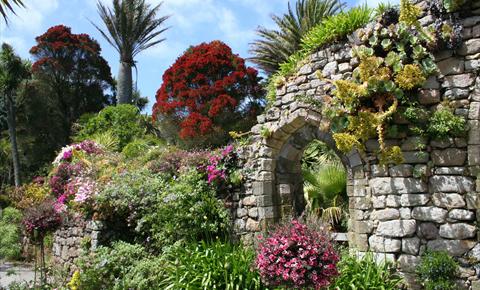 Venture a stone's throw beyond the tip of the mainland and experience what is perhaps the UK's most unique horticultural paradise.
Home to over 20,000 exotic species, this horticultural hotspot is a glorious exhibition of tender, tropical blooms that wouldn't survive anywhere else in the British Isles. Due to the warmer microclimate of the Isles of Scilly, much of the kaleidoscopic jungle that thrives here can't even be found just 30 miles away in the most western parts of the county. Astonishingly, even at the winter equinox there will be even more than 300 plants in flower to be witnessed here.
A family friendly paradise in every season, Tresco Abbey presents a colourful journey through over 80 countries from Brazil to New Zealand and Burma to South Africa. Begin your magical trip to Tresco by helicopter or boat, and land on an idyllic paradise island where you can take a horticultural world tour in just 17 acres of radiant wonderland. Follow meandering paths fringed with treasures such as cacti, date palms, lipstick-red flame trees and shocking-pink drifts of pelargonium.
When Augustus Smith took over the residence in 1838, he created this ingeniously designed historical garden around the Abbey ruins. Taking advantage of the frost-free maritime conditions, he protected exotic species behind tall windbreaks, and carved three terraces from the rocky, south-facing slope looking towards St Mary's. Whilst the higher, drier terraces suit South African and Australian plants, those at the bottom provide the humidity that favours flora from New Zealand and South America.
Despite a well-planned layout, the icy gales of 1989 damaged much of the western end of the garden, but what didn't miraculously survive has been rejuvenated along with the creation of a new Mediterranean garden. Also adding to the beauty and design are stunning sculptures found amongst the palms and beneath lush canopies.
Opening Times
Opening
(01/01/2014 - 31/12/2014)
Prices
| Ticket Type | Ticket Tariff |
| --- | --- |
| Adult | £10.00 per ticket |
| Pre-Arranged Paerties | £10.00 per ticket |
| Under 16 | Free |
Note: Prices are a guide only and may change on a daily basis.