Art Scilly
Phoenix Glass Studios
St. Mary's
Isles of Scilly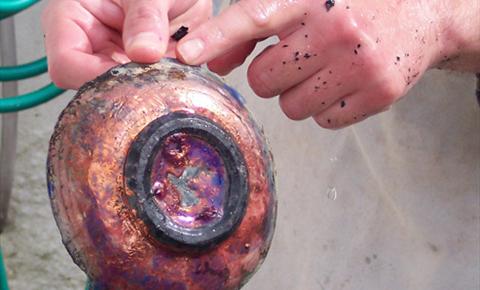 A chance to visit the islands for a week in the off peak season, when the local artist and crafts-people are able to take time out, explain their inspirations, motivations and muses.
Exhibitions of work, art and craft trails around each island and many classes which are unavailable at other times of the year, will be on offer for this week long experience.
If you are the sort of person who would love to be involved, learn new skills in bookbinding, sketching, painting, jewellery or fused glass, this is the week you should be thinking about visiting the islands.
Book now to ensure your accommodation and keep an eye out for exact course programme, dates, times and prices as the year progresses.
Further Information
Opening Times
Art Scilly
(10/05/2014 - 17/05/2014)
What's Nearby
Fantastic for local and migrant bird life. Lower Moors exhibits a wide range of wetland habitats;...

0.04 miles away

An unfinished fort in the care of English Heritage. Though named Harry's Walls, it was begun in...

0.09 miles away

Glandore Gallery is a beachside studio/shop featuring work by Stephen Morris and Nan Heath,...

0.26 miles away

Defining the harbour is the lifeboat station, inside you will find paintings, models and accounts...

0.29 miles away
Scilly Walks offers guided walks, boat trips, slide shows and short break holidays to introduce you...

0.43 miles away

A 1.5 acre sub tropical garden which has been formed on several levels from an old disused ram pit...

0.46 miles away

Previously called King Edward's Tower this well know landmark has been maintained since 1912 as a...

0.49 miles away

The Tourist Information Centre provides all the information you need to make the most of your...

0.52 miles away

Overlooking the sandy isthmus of Hugh Town, the current offices of the Duchy of Cornwall were built...

0.67 miles away

This circular granite building was erected on the highest point of the Islands as a gun and...

0.69 miles away

This site exhibits a wide diversity of habitats with several rare and notable plant species. The...

0.84 miles away

Set on a hill above the site of the ancient Iron Age village, lies this Bronze Age burial mound,...

0.86 miles away

Fortified walls encircling the headland west of Hugh Town, begun about 1588 and added to during the...

0.95 miles away

Between McFarland's Down and the Innisidgen Bronze Age Tombs, you will find Bar Point, one of St....

1.26 miles away

Ask anyone who lives on St. Mary's why they love Pelistry and the same reasons pop up. Pelistry Bay...

1.27 miles away

This leaning menhir, 2.4 metres high, is a prominent feature on the skyline. George Bonsor dug...

2.04 miles away
Previous
Next