St.Mary's Boatmens Association
The Quay
St Marys
Isles Of Scilly
Isles Of Scilly
TR21 0HU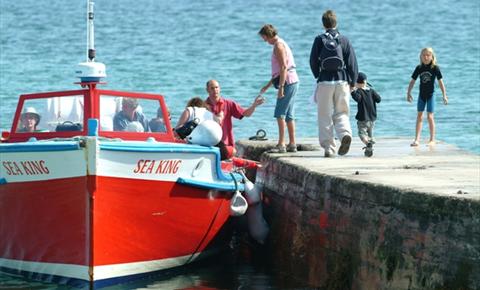 The Boatmen's Association offer an unrivalled service between the islands. They are an Association of 10 independently owned boats providing a regular service to each of the inhabited islands, and Samson. They also offer wildlife tours around the Eastern Isles, Norra'd Rocks and Western Rocks. To see a large variety of Sea Birds, Seals and even occasionally whales, dolphins and basking sharks. We also take Trips out to the largest Lighthouse in the British Isles, the Bishop Rock.
You may also like to try an evening trip to St. Agnes or St. Martin's for an evening stroll and dinner, along with a sunset boat trip back to St. Mary's (don't forget your camera!)
All our skippers have extensive knowledge of local bird and wildlife, along with generations of handed down information of the islands fascinating history.
There is no need to book as we all work together and if one boat becomes full, we simply bring along another boat. You can buy tickets at The Tourist Information Centre, Sports Mode or from the Kiosk on the Quay.
We update the black boards throughout town and on the quay each day with available trips, we visit many of the guest houses and hotels each morning to personally give the guests the day's boating information. Also listen out for radio Scilly in the morning, where we broadcast our daily schedule.
For families, groups or regular boat users you may like to take advantage of our 15%discount on 10 tickets or more, this offer is only available from the Kiosk on the Quay (as there is no electricity we are only able to accept cash) or Sports Mode.

Opening Times
2014
(01/03/2014 - 31/10/2014)
Prices
Guide Prices:
Direct Return: A return trip to any island.
Adults £8:40
Children £4:20
Circular Trip: A trip around the uninhabited islands and rocks to see seals and sea bird, with commentary on wildlife and historical places of interest (approx 1hr)
Adults £13:00
Children £6:50
Bishop Rock: This is our longest trip, taking you out to the bishop Rock light House, and through the western rocks. You will see Seals and Sea Birds and have commentary on the fascinating history of the light house and numerous ship wrecks around this spectacular stretch of coastline. (Approx 2hrs)
Adults £16:00
Children £8:00
Supper Boat: a trip departing early evening, usually to St. Agnes. Allowing enough time for a leisurely walk and a meal.
Adult £7:00
Children £3:50